Stories You Can Relate to If You Have an Itchy Dog
See how these pet owners found solutions for their dog's itch and improved quality of life for everyone.
LOGAN'S CHRONIC ITCH AFFECTED HIS PERSONALITY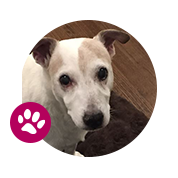 "We noticed Logan's chronic itching almost immediately after we brought him home—and he didn't even want to be touched."
We noticed Logan's chronic itching almost immediately after we brought him home. After many visits to specialists, we had no real solution, so we put Logan on special shampoos and a special diet. After years of trying different products, along with continuous antihistamine use, we grew frustrated, as Logan remained miserable. He would bark and growl at our young boys, because he didn't want to be touched. At night, he would keep us up with the itching and whining that would go along with it, likely due to the fact that he was scratching cut-up areas.
We felt helpless. Logan's itching grew so bad that he cut and scarred his eye while scratching around it. Because we could not control it, and we could not watch him 24 hours a day, he lived with an e-collar for several years. Eventually, our vet put him on a medicine that was associated with side effects. We were counseled that while there were risks, because of how uncomfortable Logan was in his own skin, perhaps it was worth it for a better quality of life. Again, we saw no improvement.
Finally, a new vet recommended a pill that was different than anything we ever tried before. We noticed an improvement in Logan's itching very quickly. It was unlike any other treatment we had tried. I cannot say enough about how happy I am that we found this medication and that I am able to make Logan comfortable. It has made him happier and, in turn, we are happier and experience more cuddling time with Logan.
DEUCE'S ITCH JUST WOULDN'T STOP—NOTHING SEEMED TO HELP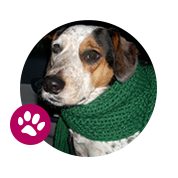 "We had been trying for years to find a treatment solution that worked."
Deuce is a Hurricane Katrina rescue who had a whole host of issues, including what we had originally thought was severe allergies. We had been trying for years to find a treatment solution that worked. Although we got several recommendations from our vet—things like medicated shampoos, rubbing olive and coconut oil on his skin, and changing his food—nothing seemed to be working, and Deuce was getting increasingly miserable. We had been giving him high doses of antihistamines at night so that he could sleep, but as soon as those wore off, he was up licking and scratching throughout the night, often licking so forcefully that he gave himself lick wounds. Our rock bottom was when he contracted MRSP from one of his open wounds. He needed a dose of heavy medication and to wear a cone when we weren't home with him!
Fearing we might have to put him to sleep, we visited one last vet who told us about a medication that worked differently—and would treat the underlying source of the itch. Desperate to try anything, we gave Deuce the medication and within hours we could see an improvement. A couple nights later, he was finally able to sleep without drowsy allergy medicine and woke up more energized! Deuce was visibly thankful to us for finding a solution—and we were just as thankful to have our dog back!
MOLLY'S ITCH MADE HER SKIN BRIGHT RED—AND MISERABLE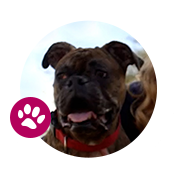 "When we finally found the right treatment, it made all the difference. Within just a couple days, Molly wasn't itching as frequently or scratching herself."
We first started noticing symptoms when Molly was about a year old. She had turned bright red from head to toe and was covered in scabs from scratching. Her eyes and ears were extremely swollen, and it became apparent that she was miserable. Molly would lie around all day and had zero energy or motivation to do anything. We tried steroid medication as a short-term solution, but it made her thirsty and she had to urinate all the time. The little it helped with itching wasn't significant enough to outweigh the inconvenience of her going to the bathroom all the time.
When we finally found the right treatment, it made all the difference. Within just a couple days, Molly wasn't itching as frequently or scratching herself, and her energy levels drastically improved. Not only was she able to play outside, but she actually wanted to play outside. Gradually the scabs healed, her skin wasn't so red, and she wasn't as swollen anymore. It was amazing to see how, in just a couple of days, she was a completely different dog! She just had such a different personality than she did before—or maybe she always had this personality and it was just masked by all the pain and the suffering. I'm so glad we finally found a treatment that works. Not only did it save Molly's life, but it also made a huge difference in our lives, too.
HARLEY'S CONSTANT ITCH CAUSED HOT SPOTS AND OTHER ISSUES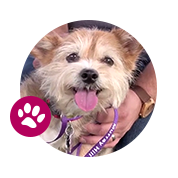 "Managing Harley's skin condition every day was challenging, and giving him a pill every day was difficult."
Harley's skin issues were detected during his regular grooming at my veterinarian's office. The groomer noticed skin infections, ear infections, and hot spots on Harley's skin. My veterinarian prescribed an antibiotic for the infections and a daily oral tablet for the underlying allergic itch. But Harley is feisty and giving him a pill every day to manage his itch was challenging for me—and with two young children and a hectic schedule, administering daily medicine was becoming stressful for everyone.
When the veterinarian told me about an injectable option for Harley's itch that could last a month or more, I was ecstatic. After starting treatment, Harley's itch and constant paw biting had stopped. And it's been great to have the relief like we had on a pill, with a monthly injectable. We go in once a month, and can reaffirm everything is OK with him and none of the issues have come back. Even though Harley is 14 years old, he is not slowing down. He seems to have a brightness in him again and a spring in his step. It's a good feeling for all of us.
The animal health information contained herein is provided for educational purposes only and is not intended to replace discussions with an animal healthcare professional. Testimonials represent individual experience only and the experiences and opinions herein may be unique to the patient and the speaker. Individual results may vary considering the unique characteristics of the patient.
TREAT YOUR DOG'S ALLERGIC ITCH
If you're ready to take charge of your dog's allergic itch, ask your vet if one of these prescription treatments is right for you and your dog: